Task
The customer needs a gravimetric, continuous dosing station for four solid components. Four high-precision doses were required: 3 pieces 0.5 to 30kg / h 1 piece 1-100kg / h. The design of the overall system provides a list of dosing units on a platform above the extruder. A collecting funnel with integrated max./min. Feedback ensures even, regulated material supply.
Construction
In close cooperation with machine personnel and process engineers, we have developed a solution with highly compact dosing devices and an intuitive user interface to the S7 control logic with optional recipe management and interface to the BDE. In addition, an optional fifth liquid component has been implemented, which can be retrofitted as needed in the control software and hardware.
The compact solids dosing are each on a platform scale with a single-point load cell (about 300x300x150 [mm] or 400x400x150 [mm], max 150kg), over which the weight evaluation takes place. The main focus was on the greatest possible flexibility and ease of maintenance. The volume of the dosing of the secondary components is about 10dm³, the main component about 30dm³.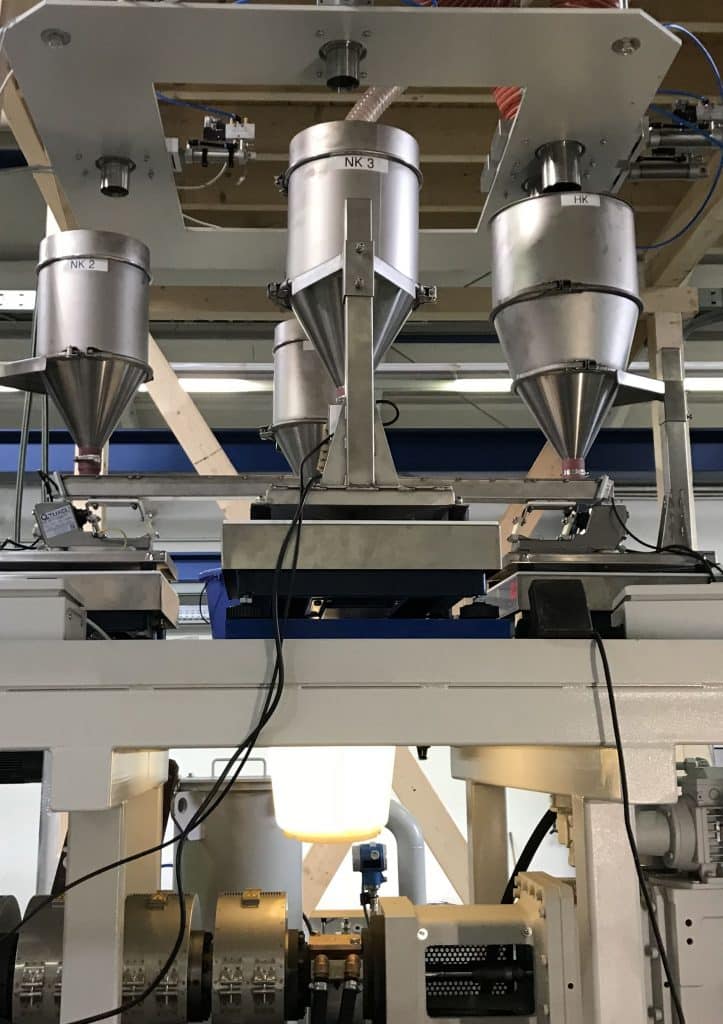 The control of the storage containers with about 1/2 hour capacity with shut-off valves / flaps and level sensors from customer service is carried out by the Siemens S7-based controller designed by epa Dosiertechnik, which is basically equipped for a data exchange via Profinet, an extension with Profibus is via an alternative CPU Selection easily possible. Our integral control, shown in the software, enables high-precision operation both in the short-term range and in production over weeks and months.
| | | | | |
| --- | --- | --- | --- | --- |
| | | | | |
| Cabinet | Cabinet | Visualization | Recorder | Process Param. |
Result
Experience has shown that this dosing system works for extended periods of time without any intervention. The recipe and thus the dosing setpoint of the individual units can be specified externally in the setting range, via the known fieldbuses or directly as an analog value. The preselected relevant process data can be transmitted to the quality management system or the merchandise management where it can be logged or further processed.