Gravimetric dosing station for high-temperature liquid with a dosing capacity of <1,000 g / h with high short-term accuracy for injection into an extrusion
Task:
The product is delivered to our customers in small containers of approx. 10 kg as melt granules in a drum. First, the barrel must be heated for a period of about 10 hours at a temperature of 80 ° C. As a result of the heating effect, the product becomes free-flowing with a viscosity of about 20 mPa · s. In technical terms, the product must be injected into an extruder with high precision using a gravimetric dosing station. Throughout the process, a product temperature of> 60 ° C must be guaranteed. The product template is a heated 10 dm³ drum. It should be noted that when replacing the drum, the continuous dosing is not interrupted. All dosing technical data must be made available via a bus system.
Execution
We have analyzed the process in detail with the customer and discussed different approaches. We worked intensively with the plant operators and the process engineers. With all the data in the luggage, we have developed a prototype. The heated barrel is placed on a lifting column with a monitored positioning and provided with a heating jacket. By automatically raising the drum, an emptying lance dives into the drum. The barrel weight is determined and evaluated by means of a load cell under the barrel. About a peristaltic pump, the medium is sucked out of the barrel and fed in small batches of a gravimetric metering device. The dosing tank is constructed so that the medium is refilled by means of a dip tube. The removal is realized with a dip tube and a metering pump. This ensures that a very accurate measuring signal is available from the weighed dosing tank without force shunts. From the metering pump, the product is injected directly into the extruder. The two pumps, the immersion tubes, the pipe and hose lines are equipped with electrical heating elements and are regulated and monitored in terms of temperature. In order to achieve the highest possible dosage accuracy, we use our LWF integral control. By using S7 modules with our special software we are open in all directions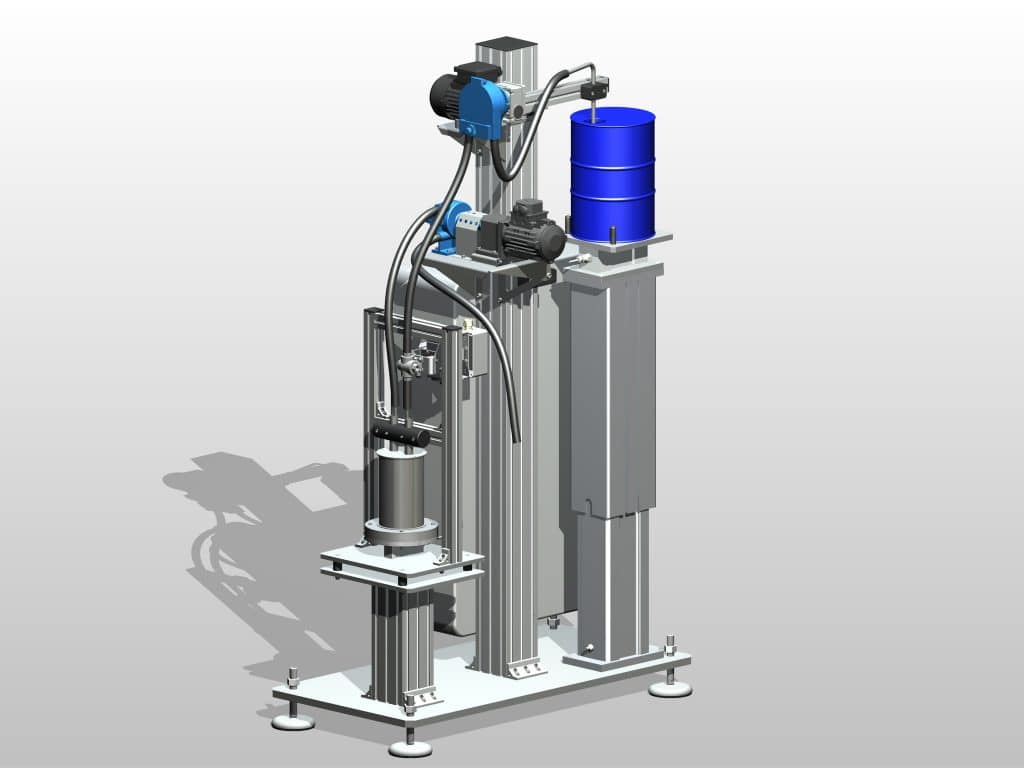 Result
The uniform, continuous and highly accurate dosage enables the customer to precisely determine the product addition and document it for verification. With a reference variable from the extruder, the dosage can be tracked.